Join PENCIL's 50,000 Futures Gala on October 6, 2021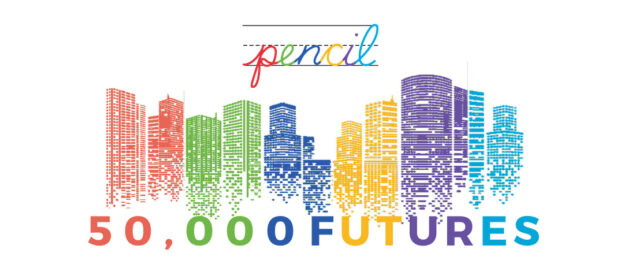 We are on a mission to connect another 50,000 students to success by 2023.
PENCIL's Virtual Gala will take place on October 6th at 6:30pm and will highlight stories of student success from the past year. During one of the most difficult times in modern history, thousands of businesses, principals, teachers, and volunteers have worked together to secure New York City's future by supporting our students. As we prepare for return and resurgence, it is time to celebrate that commitment and impact!
By contributing to PENCIL's 50,000 Futures Virtual Gala, individuals and companies will help preserve the future of New York City
by ensuring the next generation has equitable access to success through PENCIL's programs.
SPONSORSHIP OVERVIEW
SPONSORSHIP FORM
As the City reopens, its renewal requires young people equipped with the relationships, skills, and opportunities necessary for success.
You can invest in their future and ours by helping PENCIL reach our $1 million goal.
Supporters of PENCIL's 50,000 Futures Campaign and Gala
HONOR SOCIETY



DEAN'S LIST






 Scott and Melissa Beattie | Howard and Leslie Chatzinoff
Christopher and Susan Hayward  | Cindy Ma and Friends
CHAMPION
John and Elizabeth Fosina | Michael Maslansky and Susie Coulter
Meringoff Family Foundation Inc.
LEADER
Gerd Alexander and Claudette Bailon | Susan and David Cosgrove | GFP Real Estate
Debbie Kenyon and Peter Hess | Jo Lambert and Duncan Heilbronn
Abbe Raven and Martin Tackel | Bernard Tubiana | Lisa and Lewis Warren
ADVOCATE
Gregg and Karen Betheil | Civic | Deloitte Supporters | G & M Rufrano Fund
IIS, Ltd. | Josh Kuriloff, Cushman & Wakefield | Bruce Malashevich | McKinsey & Company
Marc and Giulia Weisman
FRIENDS
Karen and Jon Ballack | Matthew Barr | Marisol Collazo | Joshua Elkind | Kathleen Hamilton
HPE | KKR | Lew Leone | Spencer Lee | Oath Inc. | Ann O'Leary | Stuart Ruderfer | Soraya St Clair