We're Celebrating PENCIL's Record-Breaking Year Thanks to You!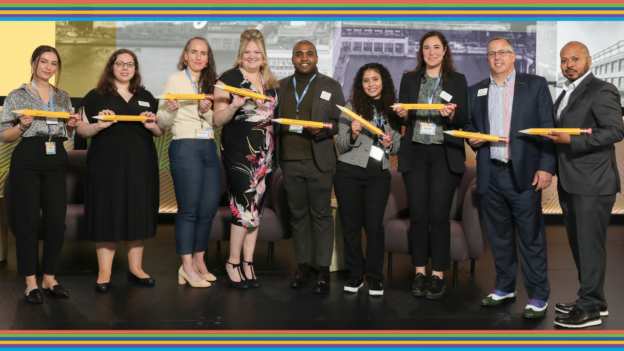 As PENCIL closes out another year, our community has a tremendous amount to be proud of and even more to be excited for in the new year. This year brought with it change, renewal, and growth. From the rapid expansion of our internship program to the return of in-person Principal For A Day to new program and revenue strategies, this has been a year to prepare us for the future ahead. Please consider supporting that future of connecting even more students to success by making a donation today. Thanks to support from the PENCIL community, here are just a few highlights and accomplishments from the year:
–7,500 students participated in PENCIL programs this year which is 50% more than last year.
–Nearly 800 young people engaged in paid internships or work-based learning programs, like Career Explorers, this summer which is 35% higher than pre-pandemic numbers.
–More than a dozen new corporate partners joined as sponsors of and participants in PENCIL programs. Partners included Google, Stifel, M&T Bank, Buzzer, Molina Healthcare, Langan Engineering, Mintz, Paul Weiss, Davis Polk, Perkins Coie, and McDermott.
–Principal For A Day® returned live and in-person at nearly 150 schools and we hosted the inaugural Principal For A Day Summit featuring Chancellor David C. Banks and prominent corporate leaders at Google's new space at Pier 57.
–We launched PENCIL's Great Give: 48 Hours to Fund the Future and raised $165,000 through crowd funding efforts of our supporters and volunteers.
–In partnership with The BE Consultancy, our team completed a 6-session training series on Diversity, Equity, Inclusion and Belonging and developed a strategic plan to embed these values throughout our work and workplace.
–PENCIL welcomed eight new team members this year to build our capacity across programs, fund development, and operations.
–After conducting a 3-year retrospective evaluation of our programs, we released a series of three research briefs with observations and recommendations to strengthen programs and impact at PENCIL and beyond.
–Our community came together for our first Celebration of Success and raised over $500,000 in support of our work.
We rely on the generosity of people like you to make this work possible. Your donations will allow PENCIL to continue to build and support powerful programs that transform students' lives. The time to support this work has never been better as there is a fervent commitment in NYC to ensure all young people have access to personally fulfilling careers and economic security and PENCIL has a major role to play in achieving that vision! Our city and our organization are both at the precipice of great things for young New Yorkers and we cannot wait for you to be a part it!
New York City's time it now! PENCIL's time is now! The time to support this important work is now!