Reimagining Pathways to Student Success- Brief #2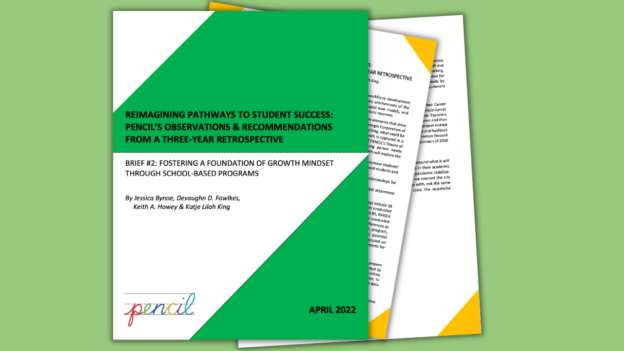 PENCIL is proud to release the second of three briefs in our series:
Reimagining Pathways to Student Success: PENCIL's Observations & Recommendations From a Three-Year Retrospective
Brief #2: Fostering a Foundation of Growth Mindset through School-Based Programs
By Jessica Bynoe, Devaughn D. Fowlkes, Keith A. Howey & Katje Lilah King
PENCIL works to help students develop a growth mindset by establishing realistic goals for personal development that are supported by staff and volunteers through a strengths-based approach. Volunteers from corporate partners use their expertise and personal experiences to model growth and resilience. Attaining new skills in an environment focused on effort instead of solely achievement helps students acquire essential skills and new learning strategies. This helps students understand that abilities and intelligence are fluid and can be improved. Students with this growth mindset have been shown to put extra time and effort into activities that lead to college and career achievement.
Growth mindset can vastly improve students desire to explore, pursue, and enhance all other in-demand skills to support future success. Therefore, it is important to understand what programs and pedagogy can create the conditions for this outcome.