Principal For A Day® 2022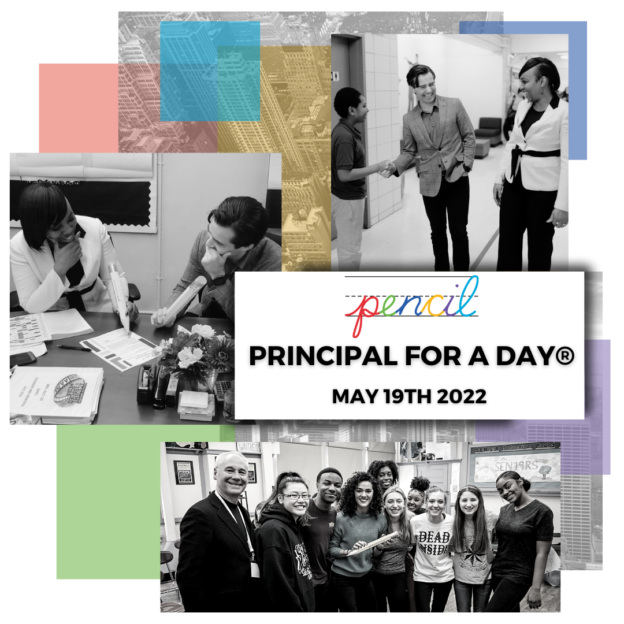 On May 19th, 2022 there were over 120 Principal For A Day visits across all 5 boroughs, reaching over 5000 students!
Executives got the chance to learn about the ins and outs of daily school leadership and school leaders gave their students the opportunity to learn about new industries and career path!
Thank you to everyone who participated in our first in person Principal For A Day in over 2 years!
Including the following corporate partners, and many more!
Allvue Systems
Amazon
Bloomberg LP
CBS
Deloitte
Dotdash Meredith
GoldenTree Asset Management
Goldman Sachs
Houlihan Lokey
IBM
JPMorgan Chase & Co.
L+M Development Partners Inc.
LinkedIn
Morgan Stanley
Paramount
Paul Hastings
Peloton Interactive
PwC
Saatva
Salesforce
Snøhetta
Stifel Financial Corp.
United States Attorneys'​ Offices
Weil, Gotshal & Manges LLP
York Capital Management
After the Principal For A Day school visits, PENCIL hosted the Principal For A Day Summit at Google where executive participants, school principals and students attended! The summit featured keynotes from:
David C. Banks
NYC Public Schools Chancellor
Phillip Anderson
DTCC Executive Director, Diversity & Inclusion and CSR
Aparna Pappu
Google's Vice President
Hedieh Fakhriyazdi
Director, Social Responsibility and Weil Foundation
During the summit, PENCIL proudly announced new commitments from Google and DTCC to expand our impact as well as the launch of a Legal Industry Advisory Group that will be convening this summer to create new partnerships between NYC's law firms and PENCIL schools and students. In addition to these amazing commitments, the seeds for dozens of new partnerships were planted.
Watch the full Principal For A Day summit on YouTube!