PENCIL's App Creation Competitions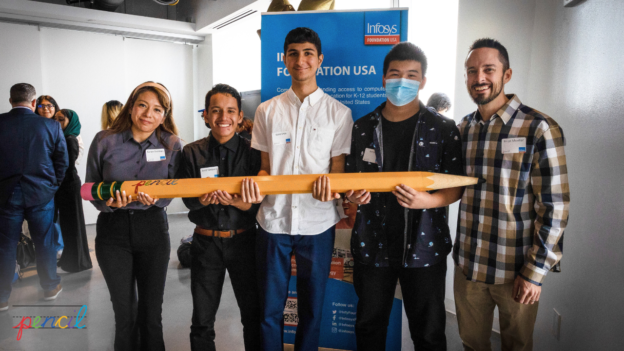 PENCIL asked NYC high school students – "What's your big idea that will be a force for change?"
Technology has the power to change the world and the PENCIL App Creation Competitions asked students to harness the power of technology and become both creators of innovative apps and catalysts for positive change within their communities.
Google App Creation Competition
Students from The Young Women's Leadership School of Astoria and Urban Assembly Gateway School for Technology engaged in a real-world technology project in their Computer Science classes. Under the guidance of their peers, educators, and Google mentors, these students embarked on the mission to develop socially conscious apps.
The winning team of the 2023 Google App Creation Competition is NYC Bikes: Louisa, Mahima, Jamie, Pema, Alyssa, and Kamilah from The Young Women's Leadership School of Astoria. Their app is designed to address the safety concerns of bikers while also tackling environmental challenges. By providing a navigation system that prioritizes the well-being of cyclists and reducing CO2 emissions, NYC Bikes aims to make an impact in both safety and sustainability.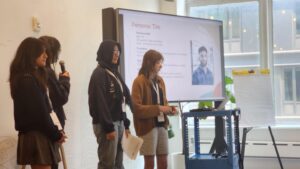 Infy App Challenge
Students from Thomas A. Edison CTE High School, High School of Telecommunication Arts and Technology and The High School of Arts & Technology were challenged by Infosys Foundation USA to identify a social issue within their community and conceptualize, design, and develop an app that will address one cause or impact of the issue.
The winning team of the the 2023 Infy App Challenge is Team Bamboo: Zainab, Kevin, Jacqueline, Shaila, and Faria from Thomas A. Edison CTE High School. Their app SafeGen, is designed for youth to navigate mental health by providing access to a wealth of information, support, and self-discovery tools, SafeGen is an app "made by the youth, for the youth," aiming to positively impact the well-being and resilience of its users.
View this post on Instagram
PENCIL is proud to acknowledge the achievements of all the students who participated in these programs. Their passion, creativity, and dedication serve as an inspiration to us all. Through their innovative ideas, they have proven that the youth possess the power to shape a brighter future for themselves and their communities. Congratulations to each and every participating student!