Here's Why Our Volunteers Choose to Support PENCIL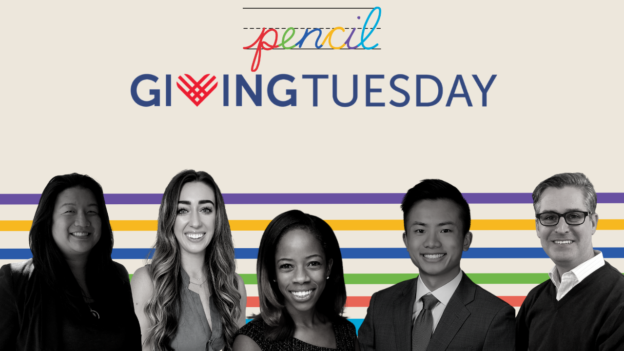 This Giving Tuesday, we are sharing the stories of some of our biggest supporters, donors and volunteers. Our transformative work with students and schools would not be possible without them!
Show your support this #GivingTuesday!
View this post on Instagram

Jessica Yang is in charge of Product Management/Repository & Derivative Services at DTCC and the Co-chair of PENCIL's Executive Leadership Council!
Jessica has been on the Executive Leadership Council for the past 3 years! She has been volunteering through DTCC's partnership with Hudson HS since 2017, has made generous donations to PENCIL and led DTCC's team in PENCIL's Steps for Success virtual fitness event to raise over $12K!
View this post on Instagram

Nicole Wallace Ardiet is the Marketing Solutions Executive at LinkedIn and the Co-chair of PENCIL's Executive Leadership Council!
Nicole has shown PENCIL so much support throughout the years through her 2020 Career Explorers volunteer work, various one-day volunteer events, the LinkedIn PENCIL partnership and generous donations.
View this post on Instagram

Terry Ye is the Enterprise Technology Services Buy Side at Bloomberg and a former PENCIL intern, 3 years in a row!
Terry experienced the impact of PENCIL's programs first hand, which led him to become a volunteer the past 2 years through Bloombergs Career Explorers.
View this post on Instagram

Here's a throwback to when John Dalrymple and PENCIL Board of Directors Vice Chair, Susan Cosgrove, faced off at PENCIL's 2019 gala event!✏️✏️
John, Susan and the DTCC team have supported PENCIL with tremendous volunteer work and financial support throughout the years.
View this post on Instagram

Gemma Bready is the Jr. Sales Representative at MarketAxess.
Through PENCIL's partnership program, Gemma and the MarketAxess team have been able to mentor students from UA Gateway School for Technology and have since expanded their partnership program.
Gemma ran for Team PENCIL in the TCS NYC Marathon where she fundraised to support PENCIL's mission of connecting students to success.
We hope you'll join us by making a donation today and helping PENCIL continue to provide students with mentors, life skills, internships, preparation for college, inspiration to explore new careers, and access to the futures they dream of.