Learn How PENCIL Helps Companies Do Well By Doing Good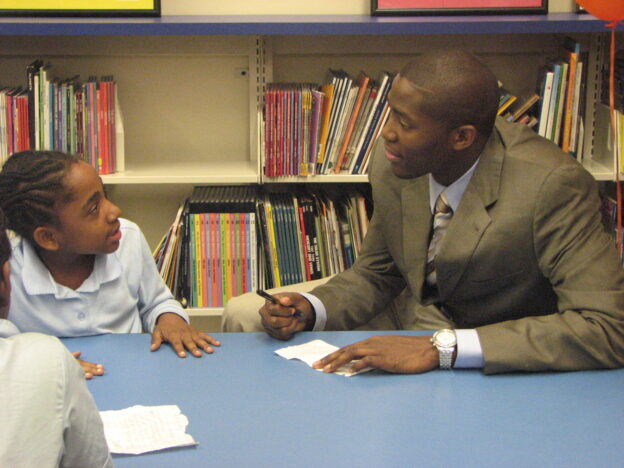 Over 25 years, hundreds of companies like JPMorgan Chase, Verizon, Bloomberg LP,  and more have partnered with PENCIL to participate in programs that connect public school students to success.
Company leaders cite PENCIL programs as an effective way to: increase their diversity pipeline, enhance team culture and innovation, and animate their company's social responsibility values.
"From the first meeting, our team knew partnering with PENCIL could be an incredible hands-on opportunity to bring our passion and expertise into a classroom and have a meaningful impact on students' lives," Michael Maslansky, CEO of Maslansky + Partners said.
Access and Prepare for a Diverse Workforce
Companies around the globe are looking for ways to enhance the diversity of their workforce. Not only do they want to ensure their workforce better reflects the population, but they are also working to increase equity in their hiring practices and create a culture of inclusivity to retain and develop talent.
PENCIL helps companies achieve these goals by:
Ensuring diverse students gain access to and awareness of career possibilities. Early awareness among students increases the likelihood that they would consider opportunities in the industries and companies our partners represent.
Learning what the next generation needs. PENCIL partners gain real time insight into how they can make their companies more accessible and approachable for young professionals from all socio-economic and racial backgrounds. This unique access also give companies a chance to learn what future employees will expect of the work culture and opportunities available to them.
Accessing diverse, young talent. 90% of the students in PENCIL programs identify as Black, Latinx, Asian or Indigenous. Companies that volunteer in PENCIL programs have direct engagement with talent they may not otherwise access or attract.
"Businesses have the obligation to support our local community and to make sure that we have a pipeline of talent coming through up into our businesses," Susan Cosgrove, CFO of DTCC said."Also at the same time, businesses reap the benefits because we are exposed to so much more diversity and talent through the PENCIL program, based on the communities that they serve, than we normally would be."
Enhance Team Culture
Several studies have shown that volunteering enriches the workplace by reducing turnover, increasing employee engagement, and improving employee happiness, leading to higher productivity. One of the most crucial benefits of being part of PENCIL's program is the value it adds to an employee's work life. Especially during COVID-19, when most people are working remotely and staying at home, interacting with students can give employees a morale boost and add to work-life balance.
Specifically, PENCIL's programs add to team culture and innovation by:
Giving teams a creative project to work on outside the daily tasks. By designing, facilitating or participating in PENCIL sessions with students, volunteer teams collaborate on new projects that may stretch their own abilities or provide an outlet for an underused talents.
Stimulating energy and morale among staff. PENCIL programs give corporate teams a fresh perspective on their own industry by exposing them to the creative thinking of our students. Additionally, through collaboration and teamworkvolunteers learn more about one another and create new bonds with colleagues ultimately leading to more positive team culture.
Fostering equitable leadership opportunities for staff. Anyone at a company, from a first year associate to the CEO, can become a lead volunteer for a PENCIL partnership. As a result, staff at any level can become the project manager and demonstrate or grow their leadership skills through the responsibilities of coordinating the program with PENCIL.
"This summer I had the privilege of remotely volunteering as a mentor with PENCIL, Inc. through its Career Explorers Program. I mentored Evelyn N., a NYC high school senior, as we worked on her summer project researching a Supreme Court case," Shade Quailey, Judicial Law Clerk at NYSC Appellate Division, First Department, said. "I am grateful for this wonderful experience that allowed me to give back a little while working from home during quarantine."
Animate Social Responsibility
Now more than ever, employees are looking  to company leaders and assessing how they are responding to the current crises, and broader issues facing the global community. The company's response will demonstrate to its employees whether or not its social responsibility strategy is actionable and authentic. Supporting students through PENCIL's programs is a great way to increase your firm's business values while simultaneously addressing social issues like education equity, access to opportunity, economic mobility and more.
PENCIL's programs helps companies live their values by:
Making it easy for employees to volunteer in a meaningful way. The clear entry points, program process and codified curriculum that are part of PENCIL's work, limit the amount of design and planning needed by a corporate partner to become involved. After a few planning sessions and volunteer orientation, teams can quickly get engaged in a school and students in authentic and impactful ways.
Offering customized, yet turnkey, models to satisfy nuanced social responsibility goals. PENCIL offers a handful of program models grounded in research and experience that can help companies meet their goals. While there is a consistent model framing the programs, there are lots of opportunity to customize the engagement to feature specific skills, industries and experiences that will be valuable to students.
Adding capacity for program logistics, content, and facilitation. PENCIL program managers are an extra set of hands for our corporate partners to engage with the community. Rather than recreating the wheel internally, partners gain access to the expertise and experience of PENCIL's team to run high-quality programs.
"Education has the power to transform and instigate change to better ourselves, society, and future generations. We truly value our partnership with PENCIL and Murray Hill Academy'" Josue Sanchez, from L+M Development, said. "We enjoyed building relationships with students as we navigated the challenges of inclusive real estate development for a better tomorrow."
Through support from New York City's business community, PENCIL has supported the futures of over 35,000 public school students who were previously unable to access opportunities that align with their ambitions. Nevertheless, there are about 1.1 million students in NYC's public school system who can use the same support.
PENCIL has launched its #50kFutures campaign to address this concern and increase access so more students can access internships, mentorships, and life-changing opportunities. By being a part of this campaign or PENCIL's other initiatives, your company can reap the many benefits outlined above while simultaneously working towards an equitable future for the world.