Community Bank in North Dakota: NYC Non-Profit's Best Bet During COVID-19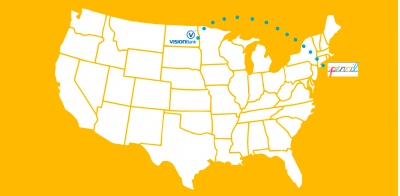 The COVID-19 pandemic has dramatically affected most businesses throughout the country. As non-essential activities shut across the United States, Congress launched the Paycheck Protection Program (PPP) to keep small businesses and nonprofits afloat. But to submit a claim for the loan was extremely complicated and getting a place in line before the SBA funding ran out meant there were no guarantees.
PENCIL's journey, like most small businesses in New York City, involved a lot of ups and downs, and some assistance from a community bank in Fargo, North Dakota.
When the first phase of the initial $349 billion funding began on April 3, PENCIL immediately reached out to its bank: JP Morgan Chase. Little did our team know that many other small business customers were doing the same thing.
Within six minutes of the application portal opening, JP Morgan Chase had already received nearly 100,000 applications.
In total, JP Morgan Chase had received approximately 300,000 applications and only had the capacity to process around 30,000 before the money ran out. After anxiously waiting for days to receive updates from the bank, PENCIL's President, Gregg Betheil, finally got a notification that the application was far back in line for submission.
Adopting a modern-day solution, Gregg resorted to Twitter:
"@ChaseforBiz How do I withdraw PPP application you haven't processed?" he tweeted.
Just a few hours later, JP Morgan Chase began sending out emails, notifying its customers to apply to other lenders on fears of funds running out.
"Your application is still in Stage 2, with an extremely large volume of applications ahead of yours," the bank's email read, "we wanted to give you this information so that you can decide if you would like to try applying with another lender."
Chase Business Banking was overwhelmed by the unexpected demand, and while they were able to help tens of thousands of other businesses in the first round, they were clear that they might not get to PENCIL.
Gregg's biggest worry, like most small business owners and heads of nonprofits, was supporting PENCIL's team of 21 staff members and being able to advance PENCIL's mission. The PPP was expected to help PENCIL advance its mission to serve NYC students, even as the pandemic was causing the cancellation of fundraising events which drove PENCIL's revenue.
To get an application into the SBA, Gregg spent the next few days contacting every financial institution he could think of from Morgan Stanley to Paypal, to online lenders like Kabbage, and more.
But the PPP's initial $349 billion allotments dried up just after 14 days.
"We reached out to all the financial institutions where we had relationships, but they were so overwhelmed that we didn't hear back. The lines were busy; emails went unanswered."
Shifting gears, Gregg asked Marilyn Fogarty, PENCIL's VP of Finance & Administration: "What is the most remote place we can think of that would have a bank?
They settled on Fargo, North Dakota.
Gregg and Marilyn surfed several webpages before they came across the website for VISIONBank, which said they were "founded on a very simple and decisive way of doing business – "Getting it Done" in every aspect by providing the best in banking products and services while delivering responsively and finishing well."
"In the moment, getting our PPP application done was all that mattered. But what really stood out to me was their focus on relationships. We talk about the power of relationships to create opportunities all the time at PENCIL," Gregg said.
A locally owned bank, VISIONBank in Fargo, ND works closely with many nonprofits, and its President, Dan Carey, is a Trustee for the Alex Stern Family Foundation that has provided grants totaling over $16,000,000 to numerous nonprofits since its inception.
Additionally, Dan chairs the Impact Foundation, a public foundation that was founded by Dakota Medical Foundation and Alex Stern Family Foundation to serve nonprofits in North Dakota.
Impact Foundation, along with Dakota Medical Foundation and the Alex Stern Family Foundation are co-hosts of Giving Hearts Day, a 24 hour giving day that has raised over $90,000,000 for regional charities over the course of 12 years with the most recent campaign raising $19,100,000 on Feb.13, 2020. Gregg saw shared values and started the application process.
"Marilyn and I, working remotely through Microsoft Teams, gathered all the required paperwork and applied through their online portal. I was surprised and encouraged when I got an email notification 15 minutes later that the application materials had been downloaded by VISIONBank's staff," Gregg said.
"I imagined they'd be a little surprised to get an application all the way from New York City, so quickly sent an email to some of the staff listed on their website to introduce myself, PENCIL's mission, and how we'd found our way to Fargo and VISIONBank."
To Gregg's surprise, VISIONBANK's President, Dan Carey, called him at 4:30 pm the same day. "First and foremost we have focused our efforts on taking care of our clients. I called Gregg one evening because I was surprised and curious that we had received the application and I wanted to hear more from the president of this nonprofit because I work with a number of nonprofits in our state."
Meanwhile, the Paycheck Protection Program had already received an additional $310 billion infusion, enabling phase II of the loan grants, for which applications were going to open on April 20.
"After reviewing the website for PENCIL and reading the story, going through the list of board members and talking to Gregg, I was very impressed with the mission and I felt strongly that they needed someone to advocate for them and assist them with a PPP application to keep their team in place during this critical time."
On the Friday before April 20, Gregg was informed that PENCIL's application was ready to be submitted when the portal reopens on Monday for the second round of funding.
"If we are lucky enough to get approved, I'll certainly have a story to tell and a lot of people to thank," Gregg wrote on LinkedIn.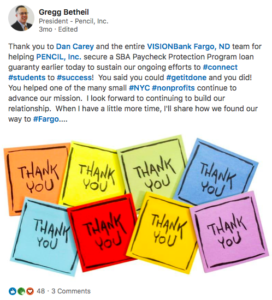 A total of $60 billion was set aside for smaller lenders like VISIONBank to make sure they could get their customers a fair share of the PPP funds while the bigger banks processed volume transactions.
But on Monday, the first day of phase II, the Small Business Administration PPP application site crashed. The system, known as E-Tran, would not allow bankers to enter loan application information that was needed for small businesses to access the program.
"Dan and Natalie at VISIONBank told us we would be among the first applications they submitted when the SBA portal opened at 9:00 am. But three hours had passed. Knowing how much pent up demand there was, we started to get nervous that we may have missed out again," Gregg said.
At noon Gregg got an email. VISIONBank had secured a loan guarantee for PENCIL.
"Knowing we had secured the funding to keep our staff working was a huge relief and allowed us to focus on our mission: connecting students to success in New York City. Through virtual career panels, mentoring sessions, and work to reimagine our summer internship program, we convey to students just how important relationships are to their future success."
While proceeds of the PPP loan arrived in PENCIL's account on May 8, that is just the beginning of the relationship the team is planning on developing with Dan and VISIONBank's team.
"We'll be working with them this summer to process the loan forgiveness, once the SBA releases guidance, and placing some of our modest reserves at VISIONBank for safe keeping," Gregg said.
"Perhaps PENCIL can bring our signature program, Principal For A Day® to Fargo when the current restrictions are lifted, and thank our new friends in person."