How One Business Leader in NYC Is Changing Students' Lives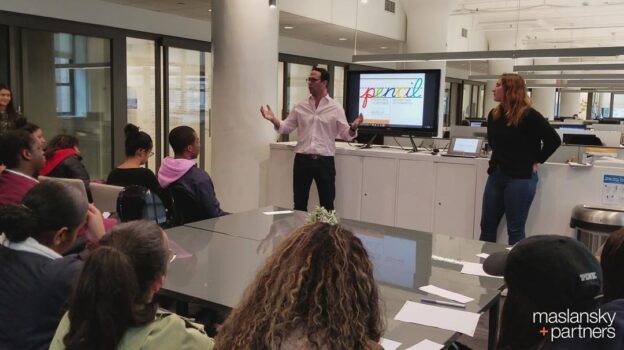 How can you use your business expertise to change student lives? Ask Michael Maslansky, one of corporate America's leading communications and research strategists. Since 2016, his firm, maslansky+partners, has supported students from Manhattan Business Academy in their college and career journeys.
Michael advises Fortune 500 corporations, industry associations, major litigation practices, and non-profit organizations. He became a member of the PENCIL Board in 2017 and is currently Chair of the Communications Committee.
We caught up with him to find out more about how his firm is inspiring thousands of public-school students through PENCIL's partnership program.
How did you first find out about PENCIL?
So, at Maslansky and Partners, we decided that it was time for us to give back to the community. And as a communication strategy firm, we wanted to connect to literacy and education. I was introduced to Gregg Betheil (PENCIL's President) and the PENClL team as a potential organization to help us do things that we wouldn't have the capacity to do as a small company ourselves.
What was your first PENCIL event?
We jumped straight to a partnership! Every year we partner with an 11th grade class from the Manhattan Business Academy in Chelsea. It's perfect because the students are getting ready to go through college preparedness and prepare for the workforce.
How does your team help 11th graders in their journeys?
We help students focus on the core communication skills fundamental to getting into college and succeeding in life. So, it's everything from helping them understand how to be better at interviewing, building their LinkedIn profile to start networking, and adopting a more empathetic and effective communication style. These are skills that they probably would not learn in school, yet they are critical.
View this post on Instagram
What's your favorite memory with the students?
One of the things that we have the opportunity to do is invite them down to our office in SoHo because their school is in the city. For many of them, they've seen these tall buildings all around them their whole lives, but they might not have family or friends that work in these kinds of office buildings. And so, for some of them, it's been their first time in a real office environment. You can see how it opens their eyes to an environment that they have never been exposed to before and that in and of itself can be life changing.
Opening eyes, minds, and doors goes both ways. How has the partnership opened your eyes?
It opened up my eyes to the reality that these schools in Manhattan are training students to take on different futures, and in many ways, businesses can step in to help. Over time, we've learned that we're not stepping in to replace the government or compete with the education system. We can be a great partner with educators to offer things that aren't part of a traditional curriculum that schools don't always have the resources to deliver. If we can bring our resources and expertise, we can provide some valuable insight and perspective to the students and open more doors.
Have any of the students you met through PENCIL joined your team?
Right now, we have a fantastic intern who is in his senior year at Columbia University who's doing incredible work for us. We have another former intern who's at Princeton now. Hopefully, he'll come back and maybe want to work for us down the road. We definitely see the partnership as a workforce development opportunity.
How has PENCIL's partnership program impacted your team members?
Fortunately, we live in a moment where it's not hard to encourage Millennials and GenZ members of our workforce to volunteer. There's already a powerful desire to do that. They come to us and ask us what opportunities there might be to give back. And so, we don't have to push hard to do that. Once we do it and participate in these programs, it is a learning experience for them. I think getting to know people from different backgrounds is always a positive step to take. Even though they live relatively close by, these students often come from different backgrounds, ethnicities and offer unique perspectives on the world. And there's learning that goes both ways.
That's good to hear! Is there anything else you would like to tell us?
I can't imagine being able to do what we do with a group of people at any school, much less Manhattan Business Academy, without PENCIL facilitating the partnership. PENCIL steered the conversation with the principal and school staff, helped us shape the curriculum and navigate the logistical challenges. We kickstarted the program without really having to do a whole lot of work. So, for an organization like ours that just wanted to get down to work, PENCIL did everything to make that possible, and it is worth a tremendous amount to me and our organization.
View this post on Instagram
Thank you for joining us today, Michael!